Apple raised the curtain on its latest iPhone models, introduced a new iPad, refreshed its watch, and announced pricing for its subscription game and premium TV services at an event held Tuesday at the Steve Jobs Theater in Cupertino, California.
The highlight of the presentation was the new iPhone lineup: the iPhone 11 (US$699), the 11 Pro ($999) and the 11 Pro Max ($1,099).
The iPhone 11 comes in six colors — black, green, yellow, purple, red and white. It has a 1,792 x 828 Retina display and runs on Apple's A13 Bionic chip.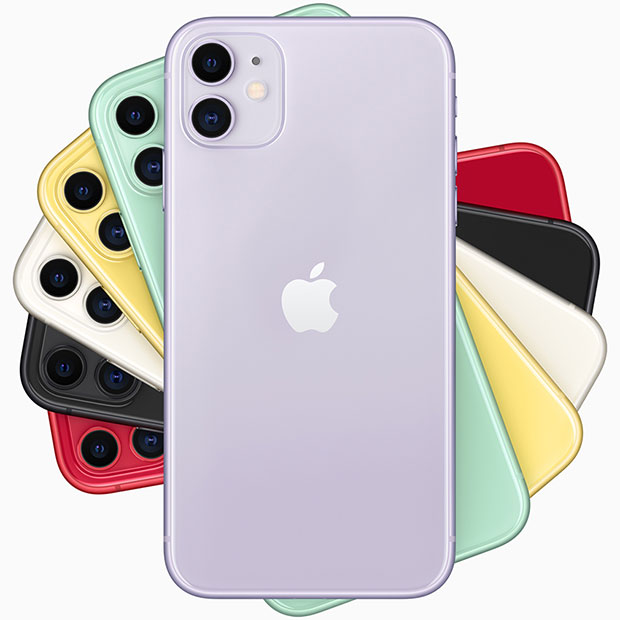 Its 12-megapixel dual camera system has both a wide and an ultra wide sensor. The ultra wide can capture four times more real estate than the wide sensor. It has 2x optical and 5x digital zoom.
In wide mode, the system has an aperture of f/1.8 and in ultra wide, f/2.4. A night mode enhances shots taken in wide mode in low light conditions.
Both wide and ultra wide modes support video. Transitioning between the modes is as simple as tapping the screen.
The system supports 4K video at 24, 30 or 60 frames per second; 1080p HD video at 30 or 60 fps; and 720p video at 30 fps.
The unit also has a 12MP sensor on the front of the phone. It now supports slow motion video for slo-mo selfies.
"That feature should get a lot of attention," said Frank E. Gillett, principal analyst at Forrester Research, a market research company headquartered in Cambridge, Massachusetts.
'Jawdropping' Demo
The iPhone 11 Pro and iPhone 11 Pro Max, which are offered in gold, space gray, silver and midnight green, have similar capabilities in differently sized packages. The Pro has a 5.8-inch Super Retina XDR OLED display with a resolution of 2,436 x 1,125 pixels, while the Pro Max has a 6.5-inch display with a resolution of 2.688 x 1,242 pixels.
The phones have a triple sensor system with wide, ultra wide and telephoto cameras, 2x optical zoom and 10x digital zoom.
Other features of the camera system are similar to the iPhone 11.
"I think they knocked it out of the park on the camera side with the Pro," said Mark N. Vena, a senior analyst with Moor Insights and Strategy, a technology analyst and advisory firm in Austin, Texas.
"Apple has been taking steps for years to position the iPhone as an alternative to a DSLR," he told TechNewsWorld. "The capability they've announced in the new Pro phone underscores that commitment."
During its presentation, Apple demonstrated how a scene that typically would take multiple camera angles could be shot on one screen on the Pro Max with a popular software program called "FiLMiC."
"The FiLMiC demo was jawdropping," Forrester's Gillett told TechNewsWorld.
"Apple has been criticized for using optical lenses while Google has been doing everything with computational photography," he observed.
"Now Apple is saying we can do better with both. We're going to give you the lenses, and we're going to give you the best computational software," he continued. "With these phones, Apple will maintain its leadership in photography."
The new iPhones can be preordered starting Friday and are expected to start shipping on Sept. 20.
New iPad
In addition to its new iPhone lineup, Apple introduced a new entry-level iPad starting at $329. "That's a fantastic price compared to where iPads were a few years ago," Gillett said. "It's not the cheapest tablet, but that price puts it in reach of a much wider range of people."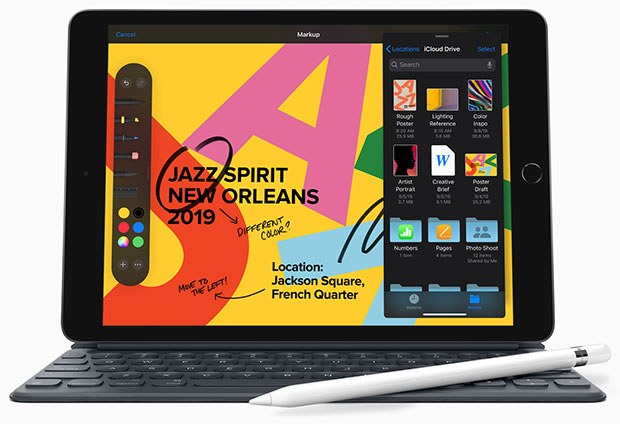 The new iPad, which is offered in silver, space gray and gold, has a larger Retina display — 10.2 inches — and supports Apple's Smart Keyboard and Apple Pencil.
Although Apple is using an older chip in the new iPad — the A10 — buyers shouldn't fret about obsolescence, Gillett noted.
"Something Apple is strong at is supporting older devices with their new operating systems. If they're refreshing the device and still using that old chip, it suggests it will support it for several years because that's been their practice in the past," he explained.
"For most people, the older chip will be fine," Gillett added, "but for people trying to do fancy stuff, it'll be slow."
The new iPad also will be running the new iPadOS, which includes enhancements that make multitasking on the device easier